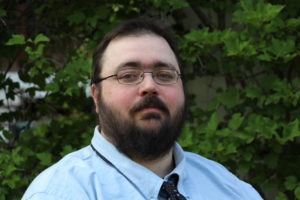 I earned my BS. Ed. Degree in Secondary English Education in Moscow, Idaho. I've lived all over Idaho from Boise to Coeur' D Alene, from Pocatello to Salmon, and from Blackfoot to Moscow. I've also lived in small town Wyoming. I am a Master of Educational Technology candidate at Boise State University. Once finished, I will have a Master of Educational Technology Degree, Graduate Certificate in Online Teaching, and an Endorsement for Online Teaching in the state of Idaho.
I teach Language Arts and Speech for Idaho Digital Learning for high school students all over Idaho. Besides my current position, I have taught high school English, creative writing, speech, yearbook, and newspaper for 10th, 11th, and 12th grade students in Boise, Idaho and Basin, Wyoming. As a drama and speech teacher, I also produced and directed the school play and coached the speech team.I've been able to develop my passion for technology at Boise State and find ways to merge that passion with my other passions in life--teaching and writing.
My coursework has allowed me to gain a general understanding of the field of Educational Technology as well as focus my areas of interest into Instructional Design and Technology Integration with a focus on online learning and bringing online technologies into a blended and traditional classroom environments. Overall, it's been a great experience and I have developed many skills and interests that will serve me well in my future career endeavors.
In addition to a master's degree, the M.E.T. program has granted me an Graduate Certificate in Online Teaching and an Endorsement for Online Teaching in the state of Idaho. It has also afforded me the opportunity to work with some great faculty and staff, in which I learned a lot. I also participated in an online teaching internship with Idaho Digital Learning that led to employment in that great organization.
After earning my M.E.T. degree, I will pursue an MA in English and continue to explore my passions in the high school and college setting. I also plan on pursuing a doctoral degree in either education or English.